FouldsCRM Finalist For Venus Awards Cornwall & Devon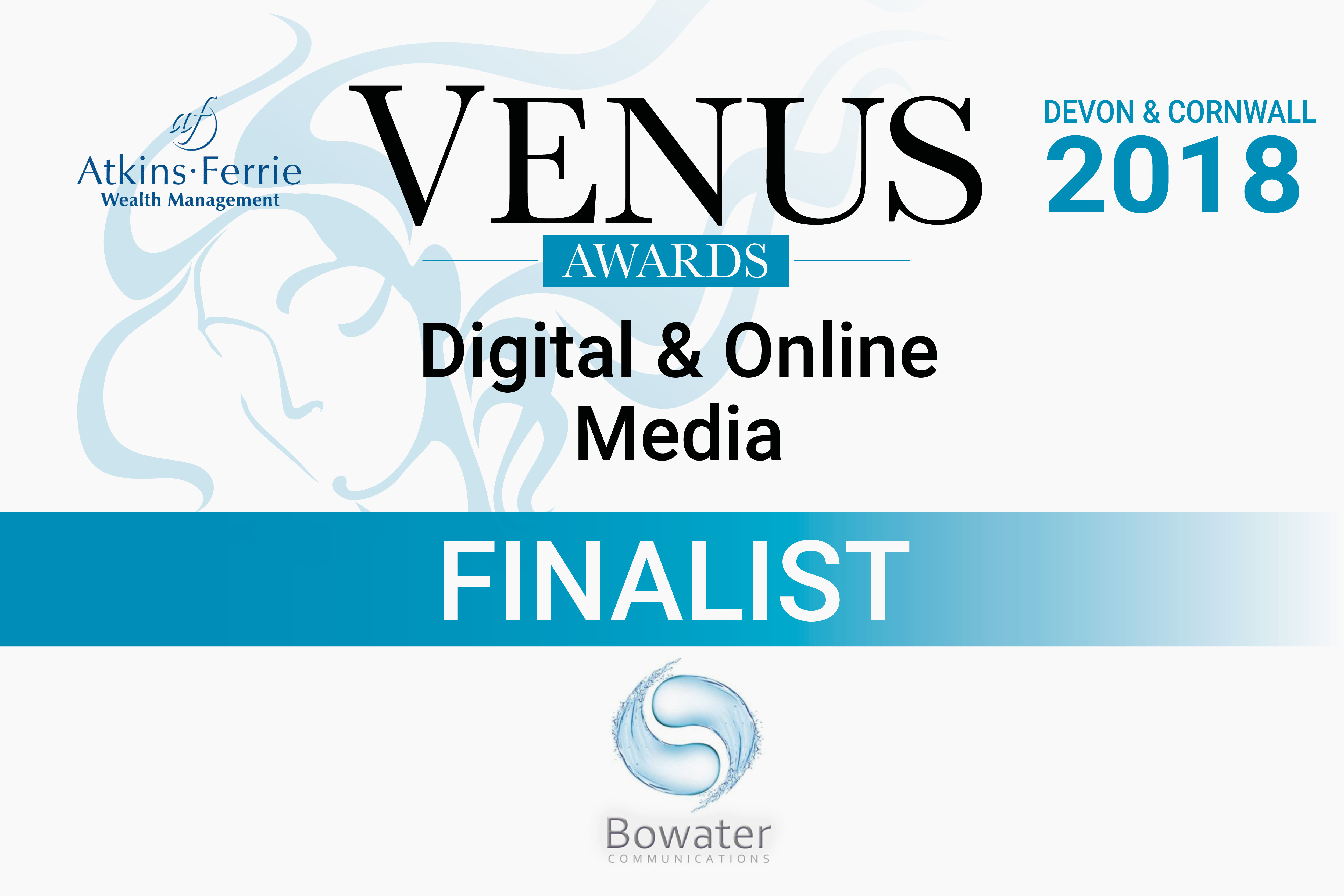 Snow day couldn't have ended better than with the announcement that FouldsCRM has made it into the finals of the Venus Awards for the category Digital & Online Media. I'm beyond excited and can't wait to head to Plymouth on the 27th April. Here you can read the offical press release courtesy of the Venus Awards.
Due to unexpected weather conditions, the Finalists Announcement of this year's Devon and Cornwall Venus Awards association with Atkins Ferrie Wealth Management and in partnership with Alexis Bowater of Bowater Communications had to be canceled. Nonetheless, the finalists were announced via Facebook live by regional partner Alexis Bowater on 1st March 2018.
Competition has been fierce this year in the region with over 1800 nominations and applications received across 15 categories – of which Business Mother of The Year was voted for by the general public.
The Awards in Devon and Cornwall were launched in September 2017 and candidates have been whittled down to the Finalists stage through a combination of public and sponsored judging. Sponsors and candidates have attended a variety of events over 4 months to reach this point.
Associate Sponsor Atkins Ferrie Wealth Management has continued their support of the Awards for a fourth consecutive year and is also sponsoring the Lifetime Achievement Category.
Heart FM is sponsoring the ever-popular Business Mother of the Year Award, which is voted for by the public in Devon and Cornwall this year.
This year's Charity Sponsor is St Luke's Hospice. St Luke's Hospice Plymouth is an independent charity providing specialist care and support to people with progressive life-limiting illnesses in Plymouth, South West Devon and East Cornwall.
The Venus journey will culminate in a glamorous Ceremony and Gala Dinner to be held at Crowne Plaza Plymouth on 27th April 2018.
The Finalists are:
Digital & Online Media Award
Christine Foulds – FouldsCRM
Kamila Bielawska – Eddystone Media
Katie Goode – Triangular Pixels
Maria Harding – Four31 Digital
Sara Pugh – Eight Wire
Bishop Fleming Employer of The Year Award
Shelley Hepburn – Gaia Spa Limited
Lisa Prescott – Chalk & Ward Advertising Ltd
Catherine Mead – Lynher Dairies Ltd
Cornish Mutual Entrepreneur of The Year Award
Kat Green – Bay care Domiciliary Care Ltd
Lauren Aston – Lauren Aston Designs
Leane Bramhall – Kineta Matcha Tea
Brend Hotels Customer Service Award Finalists
Claire Williams – The Mount Studio Architects Ltd
Helen Follett – The Folletts at Beer
Karin Bisogno – Berloni Italian Kitchens
Kelly Widley – Pier Point Torquay
Leanne Fennell – Articulacy Ltd
Heart FM Business Mother of The Year Award
Lerryn Clare – Halto
Melanie O'reilly – Blush Beauty & Training ltd
Naomi Thomas – The Wedding Wishing Well Foundation
Wizard Jeans Inspirational Woman of The Year Award
Debbie Humberstone – The Project
Katie Sherjan – Hollywell Housing Trust
Lucy Obolensky – Plymouth University
BBX UK Small Business Award
Dana Mulligan – Dana Mulligan PR & Marketing
Emma Richards – Cherub Chews Ltd
Lerryn Clare & Lucy Cox – Halto
Inspirational Woman in STEMM Award
Christina Karatzaferi – Plymouth Marjon University
Jemma Newsome – WSP
Katie Goode – Triangular Pixels
Katy Toms – WSP
Lucy Obolensky – Plymouth University
Green Business Award
Lisa Fifer – Red + Ginger
Marie Louise – Marie Louise Maternity
Michelle Havill – BABIROO
Stefanie Curran – The Kind Grind
Laura Edmunds – Serendipity Sea Crafts
Atkins Ferrie Wealth Management Lifetime Achievement Award
Gillian Groves – The Treatment Loft
Hannah Marie Getley – The Bigbury Beach Shop
Lucy Findlay – Social Enterprise Mark CIC
South West Business Connections Marketing & PR Award
Caro Bushnell – Tiverton Community Radio CIC
Dana Mulligan – Dana Mulligan PR & Marketing
Lauren Aston – Lauren Aston Designs
Rachel Bell – Bell and Loxton
Rayanne Armand – Root2Growth
Falmouth University Influential Woman of The Year (judged by Bishop Fleming)
Gina Connelly – University of Plymouth Students' Union
Helen Tite – iCareiMove Limited
Karen Hoyle – Ghost Consulting
Networker of The Year Award
Annabel McCabe – South West Business Connections
Clare Geraghty – Barclays
Hazel Parsons – Hazel Parsons Wedding & Event Consultancy
Helen Bottrill – The Creative Business Network
Lucy Findlay – Social Enterprise Mark CIC
Constructive Consultancy Women in Property and Construction Award
Emma Preston – Womble Bond Dickinson (UK) LLP
Katy Toms – WSP
Tanya Loosemore – RGB Recruitment Ltd
Sampson Hall Company of The Year Award
Warren's Bakery
Bay Care Group
Cornish Gems