Mailchimp Changes And What They Mean For You
Back in May, Mailchimp announced to its Business Partners upcoming changes that would affect every single user. Some of these upgrades were already introduced in April with lists being replaced by an audience as well as a stronger focus on tags instead of groups and segments.
It was the first sign that Mailchimp is moving beyond just email and this at a very fast pace. Since these changes have also been announced to the wider public, criticism could be heard from far and wide. This blog will shine a light on the changes, why Mailchimp has decided to go down this road and the implications this will have on existing and potential new customers.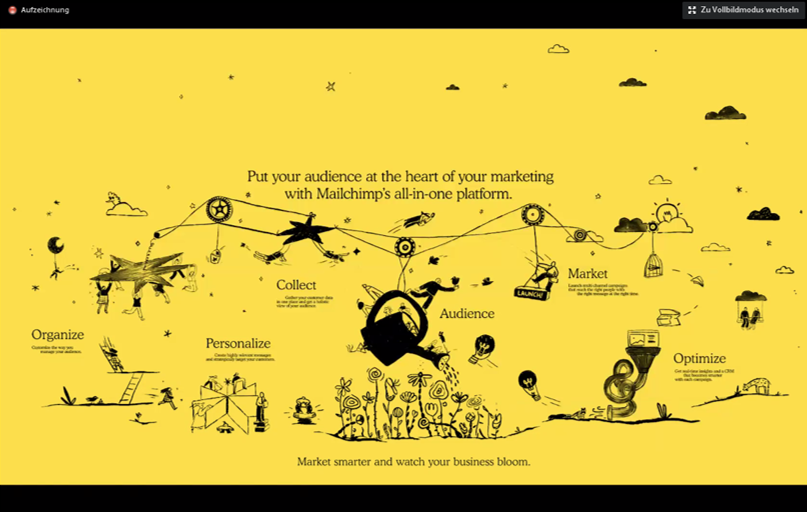 On May 13th 2019, Mailchimp announced that it is no longer just an email marketing platform but rather an all-in-one marketing software; basically a fully functioning CRM. Die-hard email marketing users of Mailchimp might have been disappointed with this business decision but I think Mailchimp had to go down this route. There are many smaller email marketing platforms out there that provide a very agile and flexible service that is attractive to new email marketing users. Mailchimp, due to its size, has somehow lost this approach. It's also too big to go back to its roots and to be honest, it would be a step backward. The only choice was to fully embrace the world of digital marketing and offer its customers a wider range of services from the Mailchimp platform. It's in a very challenging market position as it's no longer just an email marketing provider but also not yet a fully-fledged out CRM software such as IBM Watson, Salesforce or Hubspot to only name the current market leaders. I therefore expect a few more changes to the Mailchimp platform to ensure it can compete.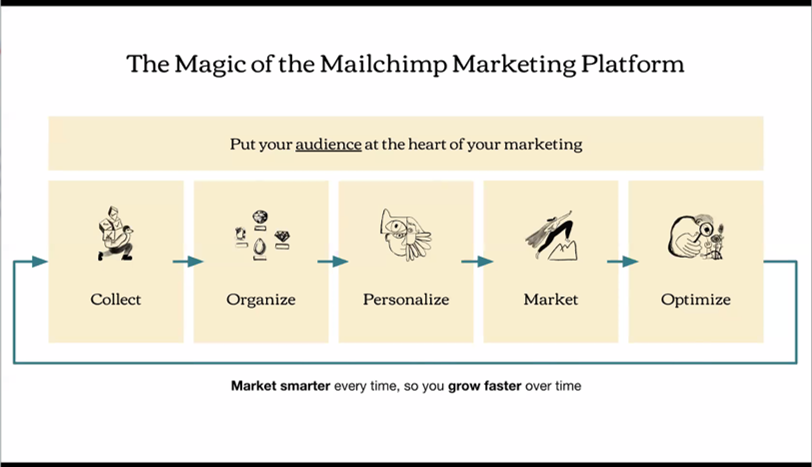 During last week's partner webinar, the Mailchimp team mentioned several times that these changes have been requested by their customers. I think this is only partly true. There are many statistics out there that suggest that the majority of Mailchimp customers still only use their email marketing service. Admittedly though, a segment of them will want a greater choice of what they can and can't do.
So, what are these new features?
Audiences Instead Of Lists

Use one big audience and segment them by using tags.
Facebook & Google Re-Targeting

Based on the information you hold on your customers you can find them via google and social media to then re-engage with them from your Mailchimp account.
Automation

Mailchimp has built in various automation cycles that allow you to keep in touch with your customers without needing to manually send out any emails.
Automated Social Posting

Mailchimp has been connected to Twitter and Facebook for a long time but now it automatically sends out your mailers to your social media accounts and provides an easy to follow reporting system.
Direct Mailing Option

Postcards can be sent via Mailchimp.
Smart Recommendations

This is based on the audience activity, where they are from, what did they respond to the most and who are your most loyal customers
Phone support for customers in the USA.
All of these changes or as Mailchimp calls them new features are an investment into customer optimisation allowing you as the business owner to get a better ROI by using Mailchimp. What it actually means is that Mailchimp has realised that most customers start using Mailchimp when they first start out due to their free package of up to 2,000 subscribers, now audience members. When the business grew, and more data is required to stir the business into the right direction there has been a tendency to change systems and look for more evolved platforms such as Active Campaign. Mailchimp has clearly said in last week's webinar that "Mailchimp is not just for launch but also for growth".
In the future, Mailchimp will allow you to track basic site activity and store this on Mailchimp which then recommends certain automations/campaigns to follow up on your customers' behaviour. They also aim to offer customers the opportunity to build their own websites with Mailchimp and buy domains through them. This is what I meant at the beginning, Mailchimp will continue to add more ways of accumulating as much customer data as they can. And this is where I think Mailchimp has a point. If you think about how many different places you store your data and how many of them are linked and feed of each other, it would be great to keep all of it in one place; the ultimate goal for all businesses.
A blog post by Mailchimp's founder, Ben Chestnut, stated: "We're dedicated to democratizing marketing technology for small business, and providing the latest, most powerful tools at affordable prices. We'll continue listening hard to our customers' needs, constantly improving our platform and building new features along the way. (Have you heard...Landing Pages are here, and Websites are on the way?)."
It's sounds all very sound and from a customer's point of view it's great to have all of these options available whether you want to use them or not. So why has there been so much criticism over it? The answer is simple: pricing.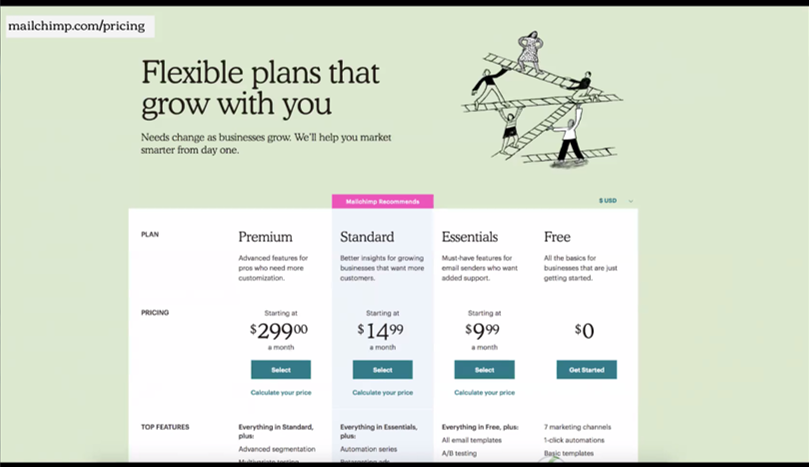 The main problem is that your audience includes everyone from unsubscribers to subscribers. Mailchimp now argues that someone who doesn't want to receive emails might be happy to receive postcards and social media ads as well as re-engagement posts so therefore you will be charged for them. Mailchimp users argue that the costs of having a Mailchimp account has doubled because they are paying now for email addresses on their account that they can't use for their email marketing which is the main reason why they use the platform in the first place.
Mailchimp has said that there still is a pricing package available that is solely tailored to customers who only use email. The package is called "Essentials" and starts from £7.94 per month for 500 audience members. The maximum you pay is £205,83 for 50,000 audience members. As the system is now based on audiences, if a third of your 50,000 is unsubscribed and you still pay for it, then yes, the pricing structure is not in your favour. However, if you start using Mailchimp as a full-service marketing platform, I think the pricing is still competitive enough to attract small to medium sized businesses.
On a different note, there have been discussions whether email marketing users should just delete their unsubscribers from the system and keep them in a separate file to be in line with GDPR regulations which would result in lower fees. The answer is, yes you could but I wouldn't recommend it. Even if you keep track of how they subscribed in the first place and when and possibly why they unsubscribed you still have one major problem. "After you delete a contact, you won't be able to add them back to your audience". This is from the Mailchimp website: https://mailchimp.com/help/gdpr-faq/. It's also a lot of manual admin work and you need to decide whether it's worth it.
My personal opinion is that Mailchimp has to add more services and change into a CRM like they are trying to do it now but that the pricing is harming its prospect to become a fully established CRM and a much-loved brand like it used to be.