Southern Enterprise Award for FouldsCRM
For the third year running,
SME News
ran their Southern Enterprise Awards rewarding small enterprises and sole traders for their hard work in the South West of England. We are pleased to announce that FouldsCRM won the award 'Best Email Marketing & CRM Consultancy 2020'.
2020 has been a remarkably busy year for FouldsCRM. As more businesses embraced trading online and marketing digitally, the team has seen an increase in demand.
"It's been really nice to see that local and national business owners value their existing customer base more than ever. Having the right retention strategy in place has been a real benefit over the past few months and long it may continue" says Christine Foulds, owner of FouldsCRM.
Below you can read the editorial piece that was published in the Awards Magazine: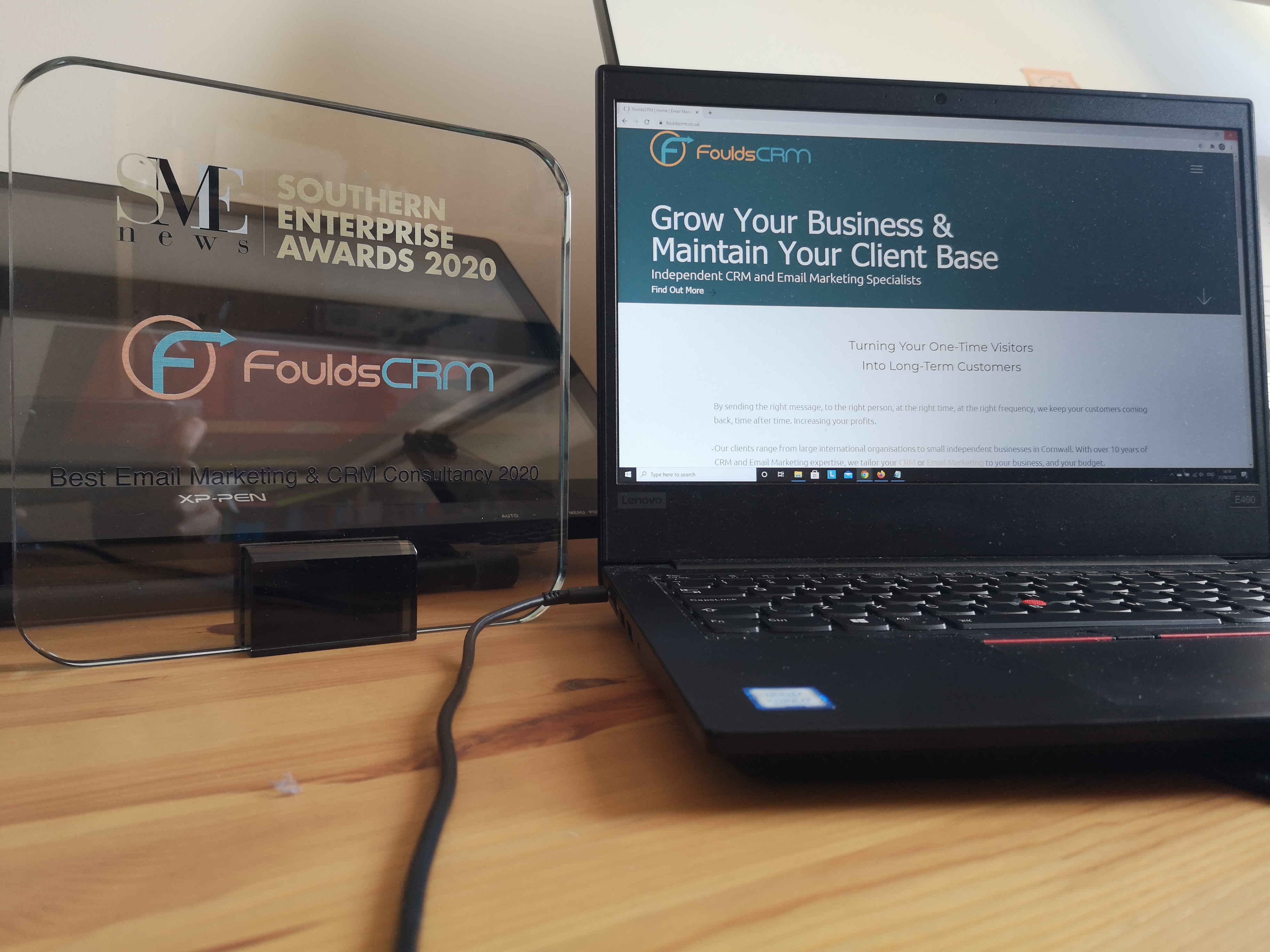 Turning a one-time visitor into a lifetime customer over and over again is the holy grail for every business, but FouldsCRM has successfully achieved this, for both their international and South West based clients. We look at how FouldsCRM has flourished in what is proving to be a difficult year for a lot of small businesses.
Each business has its own set of challenges when it comes to retaining customer loyalty. That's why FouldsCRM specialises in finding a unique solution for each client, by offering a completely targeted approach to client's customers. They send the right message to the right person, in the right format, at exactly the right time. Which brings huge gains for their clients time and time again.
FouldsCRM Director Christine Foulds says: "By targeting our client's customers in this way we help businesses increase the lifetime value of each customer which enables their business to grow year on year, sustainably.
"We're different because we don't sell CRM software. We take time to understand the specific needs of each company and help them value their existing customers more. By offering our consultancy expertise and Customer Retention Management strategies we can transform how a business operates."
Using this individual approach, FouldsCRM works with a lot of different systems. From the use of tailored email campaigns in Mailchimp – they are currently the only
certified Mailchimp partner
in Cornwall - to setting up complete automation in CRM systems such as Active Campaign or
IBM Watson
.
Staying ahead of the curve is vital for the company. The consultants are already skilled in omnichannel marketing and all-in-one CRMs, as well as embracing the use of AI. All of which when passed on to the client, gives them the edge on the competition.
Many of FouldsCRM clients are in Europe and overseas, based in Cornwall however, the company are set to help more clients locally with their customer retention plans. With digital, tech and now space industry brands all flocking to the region, thanks to superfast broadband and investment, there's much more scope to expand locally. Because each business is different, they can offer CRM strategies to both SME's and large-scale multi-national organisations.
For all businesses to grow and stay competitive in today's market, customer retention is absolutely vital for continued sustainable growth. By utilising new and emerging technologies, and providing tailored CRM strategies, FouldsCRM are not only surviving but thriving in today's unpredictable marketplace.