Watson Webinar: User Experience & Omnichannel Marketing
Every day, I open my IBM Watson account ready to automate, schedule and send various email marketing campaigns. Most of the time, I'm greeted with some kind of sales message or seminar request to broaden my knowledge on the system that I'm using on a day to day basis. The majority of time, I ignore those messages but not on May 24th when I was greeted by a Cornish success story; no other than Seasalt Cornwall.
The webinar which took place May 30th was extremely insightful and really showcased why Seasalt Cornwall has grown from a small local retailer to a well-known brand across the United Kingdom, and as it was revealed during the broadcast, soon to be international.
The webinar was hosted by Aron Cody-Boutcher, Development and Insight Director focusing on how they've achieved an improvement in their user experience by utilising an omnichannel marketing approach.
Omnichannel marketing is a really big word which sounds a lot scarier than it actually is. It simply means that a business integrates all of their different communication channels to seamlessly communicate with their customers. In the case of Seasalt Cornwall, omnichannel marketing focuses on their shopping journey providing a seamless user experience for their customers.

The 30 min presentation started with a very interesting fact that everyone can easily relate to:
"37% of consumers quit a brand because the user experience wasn't good enough".
We all have experienced this and as a marketeer we all know that we need to ensure that every communication campaign created needs to enhance the customer's user experience with the brand but that is easier said than done. Mr Cody-Boutcher referred to it as a "marketing unicorn" which is a great way of describing the challenge we face within marketing.
Seasalt started to tackle this by looking at how they can engage with their customers on a whole and not on a channel by channel basis.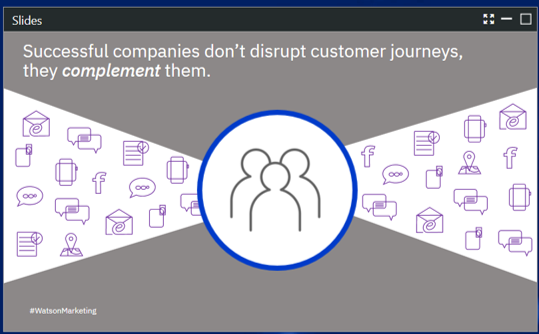 Now that sounds a lot easier than it is as each business requires the business intelligence and technology to master this omnichannel marketing approach. This is the reason why Seasalt Cornwall decided to start using the IBM Watson software because it can do all of this and more.
The next part of the presentation focused on the user experience and what does it actually mean to provide a good user experience?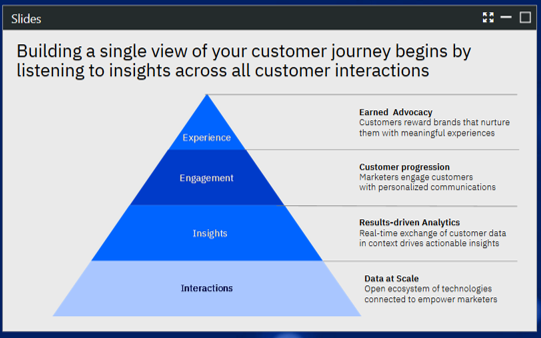 Now, we all know that a good user experience is based on making the journey from getting to the brand to buying from the brand as personalised as possible. Mr Cody-Boutcher highlighted this from the very beginning but here comes the BUT. We can't build different version of the user experience but only provide the components that then create the personalised journey. This is were the omnimarketing channel comes into place has it allows the user to provide various building blocks within the omnichannel environment. Put together, they then create that personalised journey that every customer nowadays craves.
The challenge by providing the system with various different components to then create personalised customer journeys is the amount of data that the system collects for you to then make business decisions.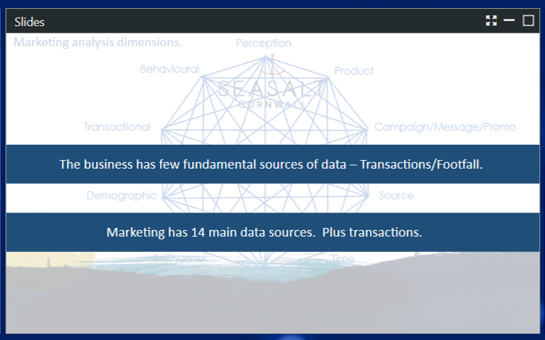 Seasalt has a very straight to the point approach when it comes to data:
Evaluation of data needs to be simple.
Data cannot be a witness but needs to be the engine.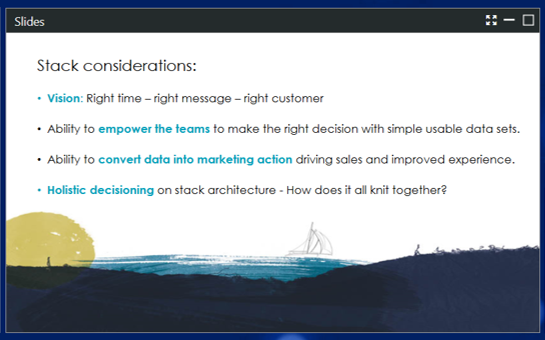 The team then talked about the various system that they are using within IBM Watson. It's neatly summed up in the slide. As a note, I've only been using IBM Watson Campaign Automation.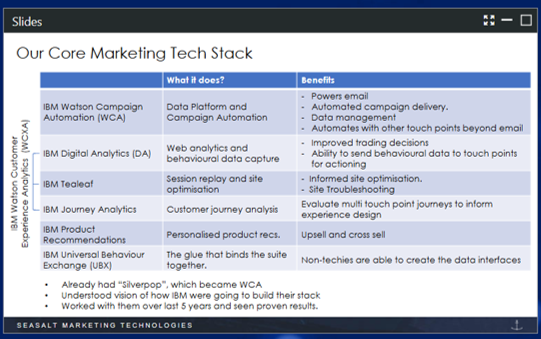 This wouldn't be a success story if there wasn't a slide with the positive outcome the omnichannel marketing approach had on the business. So without further ado…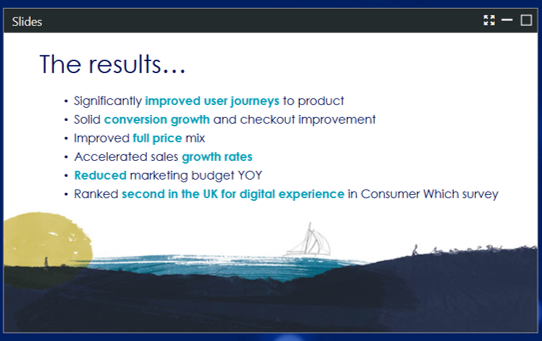 The webinar was a glimpse into the future of marketing because let's be honest even though we know that omnichannel marketing is the way forward only a few of us are already doing it. It was even more exciting to see how it's done well by a company started and still operated from Cornwall, the most south-westerly county in the United Kingdom which tends to be only seen as a holiday destination and not as a region at the forefront of digitalisation and innovation.